May 8, 2018
Strong Weekend in Mid-Ohio for Kelly-Moss Road and Race
Three podium finishes and one win cap of the Mid-Ohio weekend for KMR
Three podium finishes and one win cap of the Mid-Ohio weekend for KMR
Lexington, Ohio (7 May 2018) – The Mid-Ohio Sports Car Course staged Rounds 5 and 6 of Porsche GT3 Cup Challenge USA by Yokohama competition for the fleet of five GT3 machines for Kelly-Moss Road and Race (KMR).
As the action packed double header race weekend began, KMR set its focus on obtaining valuable championship points for both drivers and team in pursuit of new championship titles.
Heading into the race weekend third in the Platinum Class championship points, KMR was eager to see Roman De Angelis in the No. 1 Porsche sponsored by Racing for Children's / MTP / and Fortis Porsche make moves and gain championship traction.
Also joining De Angelis in the Platinum Class was the No. 61 of Scott Welham and the No. 99 iFly/VICCI Auctions/AM Motorsports entry of Alan Metni.
Representing the Gold Cup class for KMR was Kurt Fazekas in the No. 52 machine and Greg Palmer competing in the No. 44 Porsche.
Race 1 saw overcast conditions with rainy weather holding out for the drop of the green flag. De Angelis started from third on the grid and maintained position through the start. After a strong battle to hold the final spot on the podium, De Angelis came up just shy as he crossed the checkered flag fourth in the order.
The Platinum Masters class entry of Metni scored his best finish to date, scoring a well-earned masters class victory while the No. 61 of Welham finished fifth at his home track.
KMR Gold Class driver Fazekas had an eventful day one at Mid-Ohio as he made the trek to and from Indianapolis in order to attend his daughter's graduation, which forced him to miss qualifying. Fresh out of a four hour drive, Fazekas hopped in his Porsche machine and was able to bring home a third place result after starting from the back of the field while the No. 44 of Palmer finished fifth.
The final day of racing action for the KMR squad began early on Sunday morning with the team looking to top the podium once again. De Angelis started from fourth on the grid and was able to make up one position come the end of the 45-minute race as he nabbed the final spot on the podium and captured valuable championship points to slot in second in the provisional points standings.
"It was a super solid weekend for points, but it wasn't a good weekend considering the positions on track since third and fourth aren't what we are shooting for," said De Angelis. "We are here for championship points and that's what we got this weekend. No one remembers who wins a race, but who wins the championship at the end."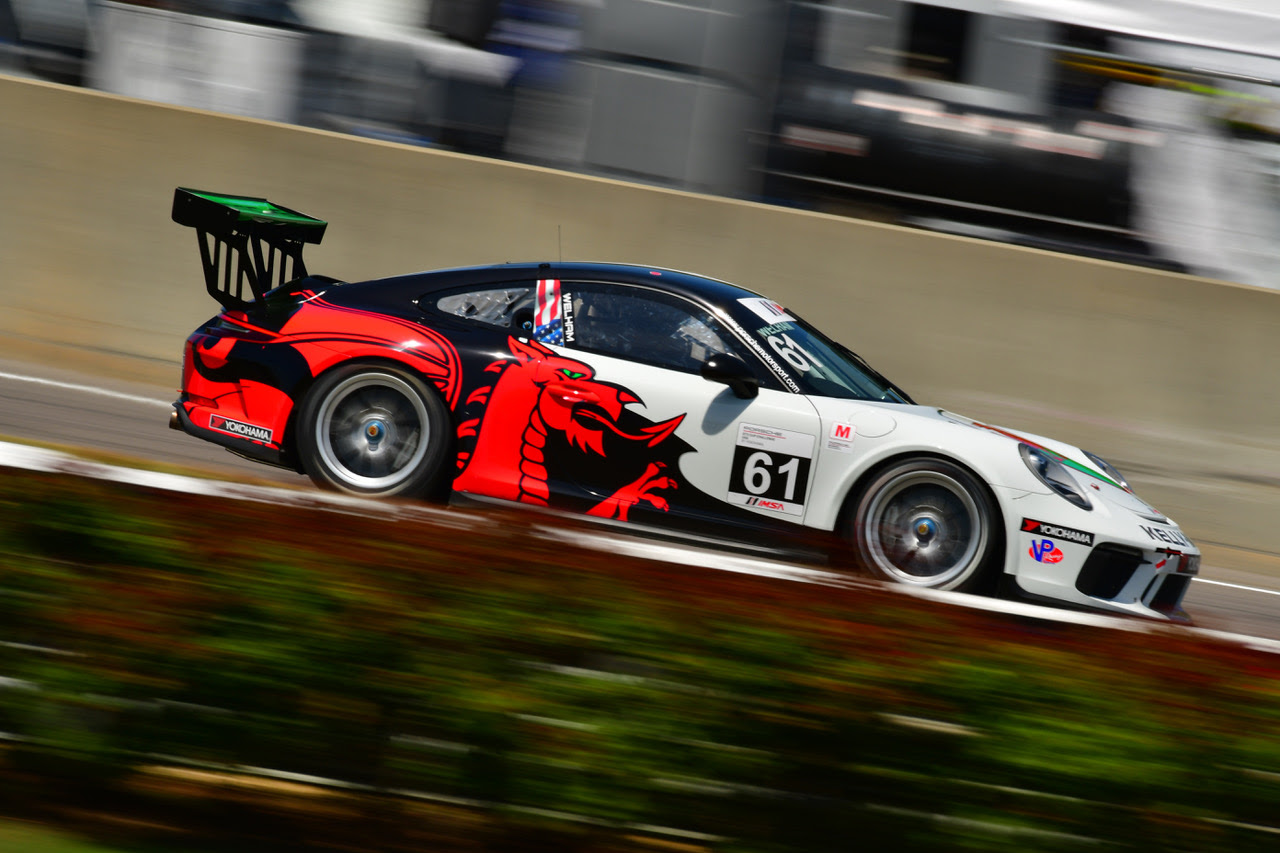 Welham scored just one position off of the podium after a solid run from seventh, finishing fourth in the order while Metni earned a seventh place result in the Platinum Masters class.
"Mid-Ohio is my home track so I was hoping to do well," said Welham. "I got my personal best time during the last race. I went from 7th to 4th and just missed a podium. I love this track and I am looking forward to building on this when we head to Watkins Glen."
Race 2 was yet another standout performance by KMR veteran Fazekas as he raced to the finish line to finish second, moving him to second in the provisional points standings.
"Saturday was a long day for me because I had to drive back to Indianapolis for my daughter's graduation so I missed qualifying which caused me to start from the back," said Fazekas. "When I strapped in the car, I had already been on the road for almost 10 hours so I jumped right from my street car to my race car which made me physically and mentally spent. It took it all to hold on to third on Saturday but that put us back in pack for Race 2. All in all, second makes me happy since we got some good points. I love this track and really hope we come back in the future."
Palmer, who continues to show improvements every time he takes to the track, scored a standout fourth place result in the Gold class.
"I was able to hold third for most of the race, but I lost my rear tires, so I need to learn how to manage my tires better," said Palmer. "I held for fourth which is a personal best for me in my first time here at Mid-Ohio. It's an unpredictable track, it was never the same everyday we were out there always slippery, wet, raining. It was always different, technical, and fun which really helped with my driving ability."
The team has worked to not only tune the cars for performance, but also work with the drivers to develop their ability to get the most out of each race weekend, and that focus has continued to generate results. Team owner Jeff Stone was happy with the return to Mid-Ohio and is pleased to be able to pick up additional championship points this weekend.
"Six rounds into the season, it's all about stacking up points and making sure we are using good judgement," said Stone. "We didn't have the pace this weekend that we hoped to. Roman (De Angelis) and the guys all drove great, and it was awesome to see Alan (Metni) get his first win. Kurt (Fazekas) wasn't able to make qualifying because of his daughter's graduation so see him drive from the back the way he did was fantastic. Greg Palmer had the drive of his life so far. Scott (Welham) really turned it on today with the 4th place finish. I couldn't be more proud of them. They are following our program, following the plan and its working. Every single one of them is starting to achieve."
Rounds 7 and 8 of Porsche GT3 Challenge USA by Yokohama competition will resume at Watkins Glen on June 28-July 1.
---